The Writer's Scribe maintains a database of publishers which may be periodically synchronized with the desktop software. So, what does that mean?
We keep track of publishers and update who is open, closed, and other changes to that publisher. This information corresponds to the information on the Info tab for a publisher. As a user, you may update the information on all the other subtabs for a Publisher while still synchronizing the information on the Publisher's Info tab. You may also choose to selectively maintain publisher information yourself by turning off synchronization for specific publishers. This dichotomy allows you to capture your own notes and other info on each publisher while letting us at The Writer's Scribe at keeping key information up to date.
So, how does this work? First, when the application is installed, it comes with a full set of publishers already loaded. As of version 4.8 there are over 1200 publishers listed. When you purchase the application you gain the ability to synchronize the publishers. You can tell when a publisher is tracked in the Global listing when the following is enabled.
How often are the publishers updated? Typically, about once a week. We find this frequency captures key changes and doesn't create too much churn in updating the information.
How do you check for updates? The application periodically checks for updates to the Global database. When an update is available, a note will be displayed in the top banner.
How do I update or synchronize my publishers? Go to the Control Panel tab, then the Export/Import tab. Click on the Import Global Publishers button. A popup dialog will be displayed.
The Instructions tab of the dialog describes how to perform the update. The What's New tab displays a summary of changes between the currently loaded publishers and those contained in the latest update.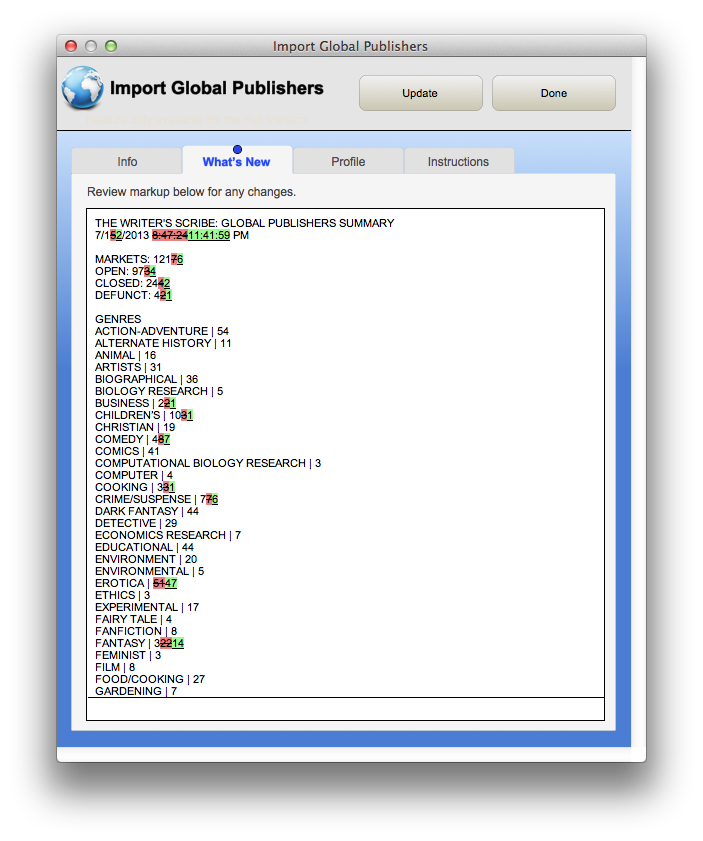 If you find other reputable publishers, use the Recommend as Global button on the Publisher's tab to request they be tracked as a Global Publisher.